Quilt Raffle to Benefit the Pines of Peace
We are selling raffle tickets for a beautiful vintage quilt. This is a wonderful opportunity to support Pines of Peace and take a chance at winning a stunning historic quilt.
The winning ticket will be drawn on June 11 at the Pines of Peace Garage Sale. Tickets can be purchased online, at Pines of Peace, or from staff and board members.
Quilt Description
This gorgeous vintage Ohio Rose pattern quilt was donated via the Reverse Curves Quilt Guild by the family of Lillian DeYoung. Mrs. DeYoung hand-appliqued the quilt top in the 1970s and then sent it to the Ohio Amish community for the hand quilting.
Mrs. DeYoung was a prolific lifelong quilter from Rochester and belonged to both the Genesee Valley and Irondequoit quilt guilds.
The quilt is in pristine condition and measures 7' by 10'. The backing is white.
Ticket
Ticket Price:
$1.00 for 1

$5 for 6

$10 for 12

Ways to Purchase:
Online: 
Order and pay for your tickets online by using this link.
We will create a hard copy of your tickets and submit it for the drawing.
Via Mail:
Click and print the ticket below (PDF) and mail it with your check to POP 2378 Ridge Rd., Ontario, NY 14519.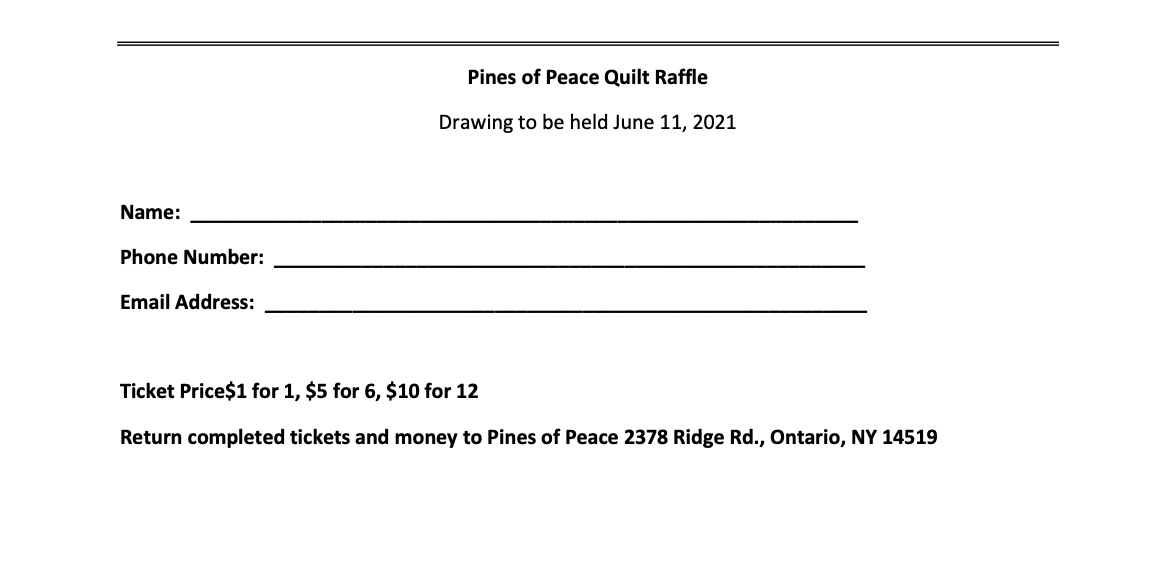 In-Person – Call POP first to ensure staff are onsite. 315-524-2388.
Board Members, Staff, and Friends of the Pines also have tickets available for sale.